By Digital Craftsmen in partnership with Qualys
Get your FREE Managed SOC quote now
Security Operations Centre (SOC) combines two cyber security best practices
SIEM software and processes (Security Information Event Management)
SOAR teams (Security Orchestration Automation and Response)
It's a costly investment to set up a SOC internally and often beyond many business budgets.
We believe all businesses need the essential SOC layers of defence against the increasing threat of ransomware attacks. We've made it affordable for SMEs to achieve the best cyber security.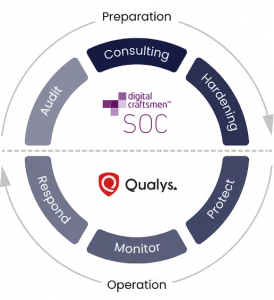 Third-Party experts make it affordable. 
Our SOC means businesses get the best Cyber Defence available and demonstrates that business directors comply with their regulatory obligations.

DCL Security Service
We are ISO:27001 & Cyber Essentials accredited. Trusted to deliver IT Management, Technologies, Processes and Customer Service across Public and Private Clouds.
Part One of the SOC Service: - Prepare 
Auditing
A complete audit of network systems, existing security, vulnerabilities and processes.
Hardening
Vulnerabilities are identified and systems remediated to build a secure baseline for your organisation.
Consultancy
Industry endorsed IT Security and Cloud Experts on hand to:
a) Fully align the SOC security services within your organisation and for your Cloud  journey
b) Continually optimise to your requirements
c) Support in the development of short and long terms plans to achieve the business objectives
Part Two of the SOC Service: Ongoing Operations
Threat Resistance Team
Collects, enriches and disseminates threat intelligence of attacks
Security Operations
Experts who safeguard your IT systems 24/7/365
Security Engineering
Experts responsible for the configuration and correlation of backend tools to provide enhanced security outcomes for our clients.
Support
Our extended support team brings value and insights to our customers in their environment.
Governance, Risk and Compliance (GRC)
Compliance experts experienced in securing hosting environments, with the qualifications to comply with all major compliance and security frameworks.
Benefits of working with Digital Craftsmen: 
Affordable security and protection with no compromise to the level of protection, monitoring and response to combat the increased threats of cyberattacks.
Read our Evolution of Cyber Security blog post to discover why bringing in external Cyber Security Specialists provides a strong line of defence for businesses at an affordable price with no compromise on quality and level of service.
Read what our customers have to say
Read the latest news, research and expert views from our master Craftsmen on cyber security and hosting issues, cyber risk, threat intelligence, network security, incident response and cyber strategy.
Start the conversation, let's talk...