Challenging Times for Cyber Security
Cyberattacks have increased by 600% in the last 12 months alone, and industry reports predict it's going to get worse. Various factors have created this situation. First, working from home during lockdown opened up vulnerabilities that hackers quickly exploited. Second, the 'Great Resignation' has seen people quitting their jobs, leaving gaping holes in the knowledge of the organisations they leave behind. Third, the push for Digital Transformation has seen internal resources stretched to the limit to deliver on projects without the time to assess their security. The last, most serious, are hostile nation-states waging cyber warfare to weaken businesses, governments, and economies.
Hackers are more sophisticated in using social engineering techniques to deceive victims into opening phishing emails. They're busy deploying new technologies such as AI to carry out brute force attacks. Once inside a network, they hide for days, even weeks, their activity barely noticeable on standard cyber security systems whilst they seed malicious code deep into IT infrastructure. Any data backup is then infected or corrupted by ransomware code.
Cybercrime Is Now Commoditised
Cybercrime generates billions in revenue for cybercriminals. The tools to launch cyber attacks have become commoditised and now a hacker with basic technical skills can buy the elements required to launch a ransomware attack from the Dark Web.
Cyber Security Preparedness
Many organisations are unaware of these heightened threats and are still relying on technology alone to secure their perimeters, with a few reminders to employees about phishing emails. In today's world, this passive approach to cyber security is nowhere near enough to be protected against cyber threats.
Cyber Security 101
90% of successful cyber attacks are due to basic human error with phishing emails top of the list. Simple steps such as raising the level of cyber awareness by adopting a Security Mindset amongst all employees will reduce the number of incidents.
Cyber Security Triumvirate
The best cyber security approach we recommend for securing your defences against cyber threats is based on Three Pillars: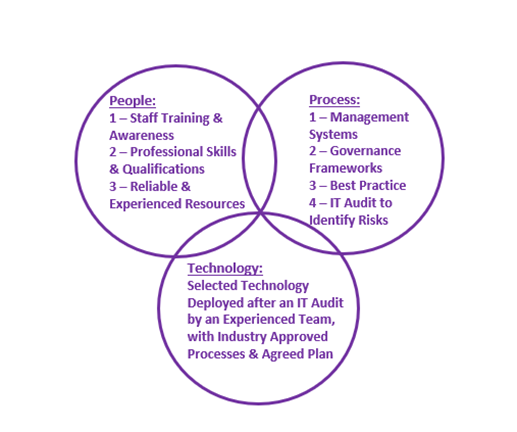 1 People
A Security Mindset is your first step. But, do your IT teams have the latest cyber security skills, expertise and qualifications to ensure the best controls, technologies, and practices are in place to be secure against increasing cyber-threats?
2 Process
Processes provide the frameworks and organisational structures for employees to understand their roles with supporting documentation to mitigate risks or deal with threats in real-time. As a best practice, these should be continually assessed and updated as cybercriminals are constantly evolving their attack techniques.
3 Technology
Technology, if introduced and developed in a secure manner, significantly raises the levels of defence. However, all too easily it becomes the root cause of problems if deployed without sufficient planning, and a limited understanding of the environment they are being set up to defend.
Partnering with Cyber Security Experts
Our security services are based on the Three Pillar Approach.
We are ISO27001 and Cyber Essentials accredited, and bring industry verified cyber security processes to clients, with an operational ITIL Support Desk available 24/7.
The partnerships we have with Qualys and Armor, two technology cyber security giants provide us access to the latest technologies, best practices and learnings which in turn we bring to our clients.
Cyber Security for the Public Sector
Follow a simple two-step roadmap to strengthening your security:
Step One – Run a Vulnerability Audit to identify any vulnerabilities. Once these are known, our teams are ready to remediate all weaknesses and harden systems.
Step Two – Bring in a Security Operations Centre (SOC) with 24/7 monitoring and dedicated teams ready to take action at the first sign of an attack. Threats are detected in seconds, identified in minutes and remediated within an hour.
Setting up a SOC in-house is costly. A data breach is a lot more costly.
This is why bringing in third-party experts and a managed SOC as a Service provides an affordable option at a time when budgets are under increasing pressure.
Maybe it's time to reassess your state of security preparedness. Visit our webpage today to secure your employees and IT systems.
www.digitalcraftsmen.com/vulnerability management
Why not speak to our security experts today on 020 3745 7706 or email [email protected] to find out more about our cyber security services.