Managed Cloud Services
We make the cloud a safer place for our clients.
Our dedicated team of Managed Cloud Services experts is focused on protecting your business. No matter which level you choose, our managed services can help secure both your online reputation and your data on any IaaS provider.
Simplify. Automate. Secure.
We take a unique approach to Managed Cloud Services, designing simple and elegant solutions that are easier to maintain. Automated configuration, deployment, monitoring ensure that your system is resilient and responds to trouble quickly. We are also ISO 27001 accredited and will work with your business to create a secure combination of people, processes, and technology to keep your data safe.
Please explore our three levels of Managed Cloud Services to find the right fit for your business. If you would like to speak to one of our experts about migrating to, or operating in the cloud, we are here to answer all of your questions.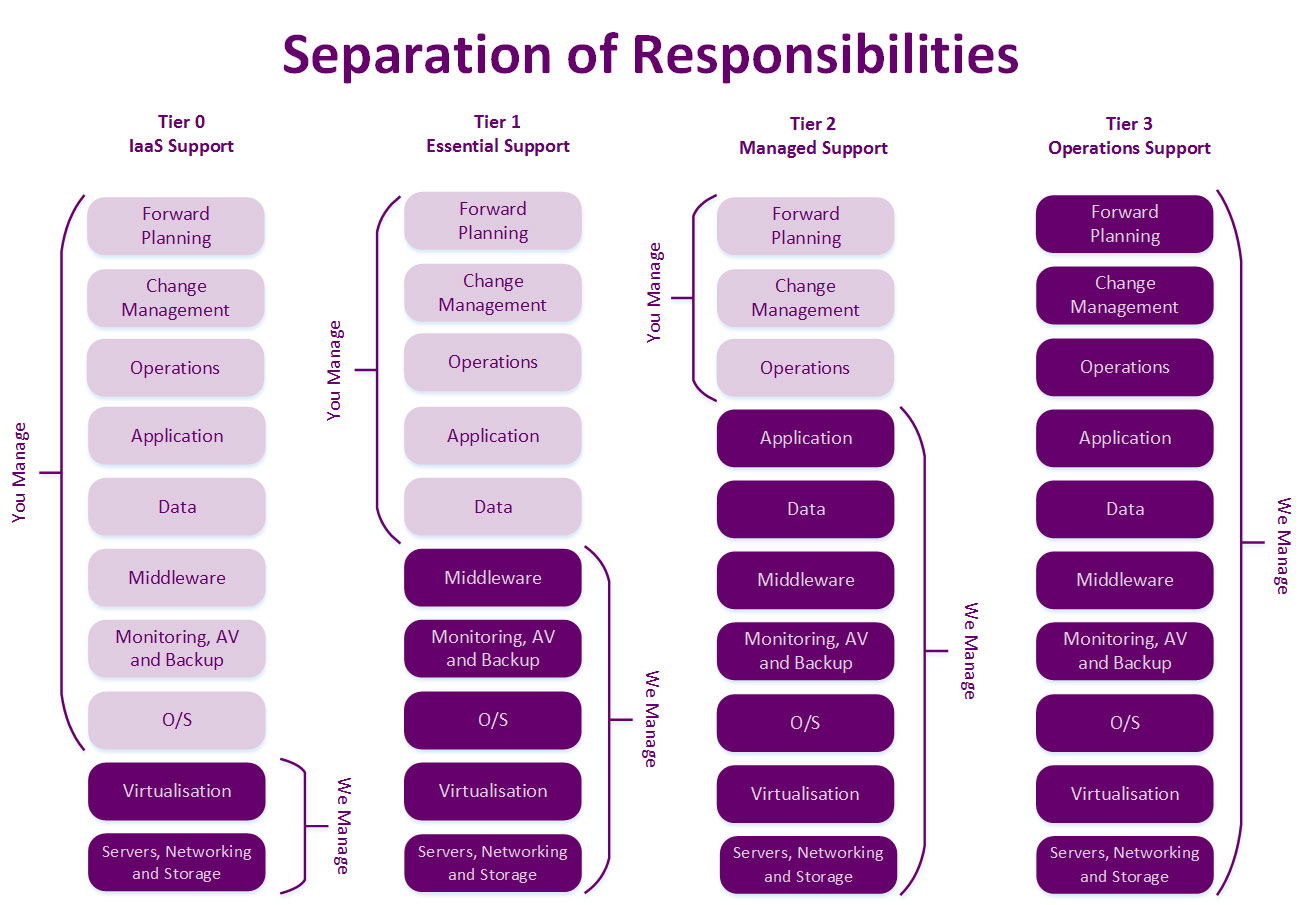 Operations Support  Tier 3
When your business depends on your network, you need our highest level of Managed Cloud Services. Operations Support includes business service monitoring, project management, and a disaster recovery time measured in minutes, ensuring minimal data loss. We will also take a proactive role in preparing your business for the future, including designing business processes focused on protecting your data. To learn more about how we will personalise our managed services to fit your business.
Managed Support Tier 2
Incorporating all of the benefits of our Essential package, Managed Support adds 24/7 critical support and resiliency designed to minimise any reasonable risk to your Managed Cloud Services. Advanced monitoring will provide hardened security to defend your website against defacement and hacks that could harm your business' reputation. With a target of 99.9% uptime, you can rely on our Managed Support to keep your site up and running. If a disaster does occur, we can rollback from 12 to 24 hours and provide a smooth recovery. We also provide incident reporting and configuration setup and management. To speak with one of our experts about the benefits of Managed Support.
Essential Support  Tier 1
If worrying about downtime doesn't keep you up at night, our Essential Support level is for you. Our service desk will respond to Managed Cloud Services requests during normal business hours in the event of a disruption and we perform daily backups of your data. This service also includes standard security including basic monitoring and capacity reporting.